Out today : GAIL GHIMP - "Fire / Failure Soundtrack"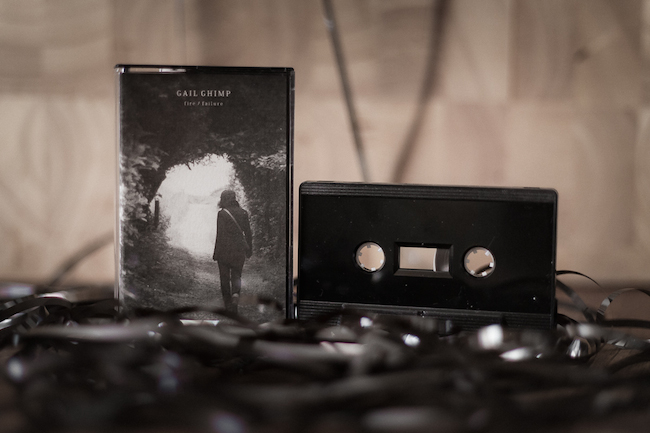 I already post something about this album a couple of weeks ago but today I'm happy to tell you that GAIL GHIMP's previously lost, unique and never released before album "Fire / Failure Soundtrack" is now available in Soft Corridor's shop (Cassette Tape/Digital) and ready to ship! >>>
https://softcorridor.bandcamp.com/album/fire-failure-soundtrack
Abigail Rosa Ghimp was born in London, England on 29th of July 1982.
She moved to Germany and studied Art History before starting to record sampling sounds and collages for art videos and experimental films. She then relocated to Belgium to act in a few short films.
"Fire / Failure" is her unique album, recorded around 2000. This "soundtrack-like" experiment is pure weirdo dadaistic sampling creation, combinated with distorted African recording cassettes apparently coming from her family's house. We know for sure that a video was shot during the recordings…but it strangely disappeared.
The music was only available on a couple of "homemade tapes" she sent to a few local record labels around 2000. The tape was named 'Gail Ghimp – Fire / Failure Soundtrack' and was never released… After that, Gail became suddenly silent…
She died in 2012 of a heart attack.
She was 30.
A couple of months ago we found one of the tapes while digging at a garage sale hosted by an old record shop owner. We immediately loved what we heard and started tracking Gail Ghimp.
Twelve years after it was recorded, we are proud to finally release this fantastic piece of music and to pay hommage to the talent of the late Abigail Rosa Ghimp.
To match the mood, the origin and the spirit of those recordings we decided to release this album on cassette. This is Soft Corridor's first tape.
Pro-dubbed Black Cassette (C-50) / Edition of 60 copies.
https://softcorridor.bandcamp.com/album/fire-failure-soundtrack
Similar topics
---
Permissions in this forum:
You
cannot
reply to topics in this forum